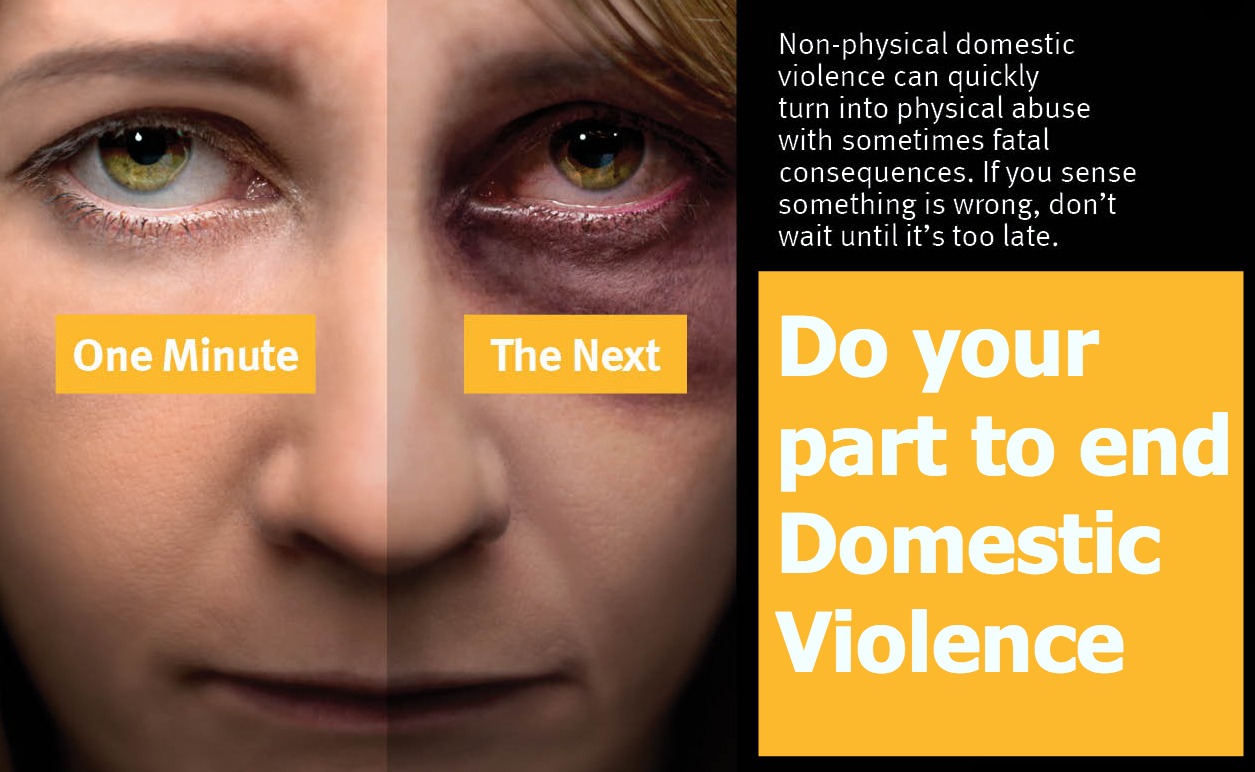 Probably one of the most often types of call that an officer gets dispatched to and also one of the most dangerous is the domestic disturbance/violence call. The first police officer funeral that I ever attended really drove that point home. Two Richmond Ca. police officers were gunned down while climbing a stairway inside of a residence after receiving a domestic violence call from a woman inside. Both officers were killed and that was the hardest funeral that I have ever attended. To see the officer's families and children crying was almost too much to handle. But it is not just dangerous to the responding officers, it is dangerous for victims of domestic violence to stay in a situation where they are battered or abused. Before I get into this topic, please, if you are a victim of abuse, whether you are old or young, married or dating, male or female, whether it is physical or mental abuse, Get Help Now.  No one, and I repeat No One, should have to live in a situation of abuse. There is help out there if you want it. Every phone book has emergency numbers in them. Every police or Sheriffs department has hotline phone numbers for abused victims who need help. Physical abuse is a crime that has to be stopped.  Tell someone.  Help is only a phone call away.
I am not going to get too deep into this, because I could type for days and not even scratch the surface of the types and causes of domestic violence. Domestic violence and abuse hotlines can provide important information about getting help, shelter, restraining orders, counseling and assistance in getting your life back together.
I'll never understand how a victim of domestic violence can stay in a situation of abuse. I know there are reasons, the most common is fear of leaving and loss of self confidence, but to see someone almost lose their life, then go back to the person who did this to them is beyond my understanding. I'll never forget a call that I went to a few years back. I got dispatched to a call of domestic violence at a house with screaming and crashing noises heard by the dispatcher in the background. When we got to the house, we found a blood trail coming from the front porch, down the stairs, and across the street. This was not just a drip of blood here and there; it was a solid thick trail that was obviously a serious injury. We followed the trail, through a few front yards, over the hood of a car, and up to a front porch of another residence. In my mind, I was going to find a dead body here. Due to the amount of blood loss in the trail we followed, I did not think that someone could survive. I did not know if the injury was a stabbing or a shooting, but the amount of blood made it clear that the injury was serious.
We found a woman collapsed on the porch in a pool of blood. Miraculously, she had a pulse and was breathing. She had severe head and facial injuries, she had beaten with a heavy object in the face and head so badly that her face was not recognizable as a face. Fire and paramedic personnel arrived and she was taken to a trauma center. We went to her house and with a PA speaker and ordered her husband out. After throwing items through the front windows, he finally came out, covered in blood. He was not injured; it was his wife's blood that he was covered with. He had beaten her with a ceramic vase. When that broke, he continued the beating with a chair leg. He was arrested and taken to jail. We did our part, we got medical attention to save her life, and we arrested her husband, and provided her with all the needed information to get out of the situation.
About a month later, I took my family to a nearby lake for a little swimming on a hot day. I was shocked to see the same woman that was beaten almost to death, with her husband, the scumbag who did it to her. Turns out that his family bailed him out of jail, and due to his wife's insecurity and fears, she went back to him.  I was truly shocked. Since then, I have seen the same scenario over and over again. Victims of domestic violence and abuse returning to the same people who batter or abuse them. Abuse and domestic violence almost always get worse. What starts as verbal abuse, almost always escalates into physical violence later.  Drugs, Alcohol, Depression, and Anger are all risk-associated factors that can lead to domestic violence.  During holidays, there is a noticeable increase in suicides and domestic violence.
It is not unusual to go to a call of a domestic violence situation, and to arrest a husband for spousal abuse. Upon our arrival, we often find the wife injured and bleeding, begging us to arrest her husband.  It is not uncommon to arrest the husband, only to have the wife then jump on our backs trying to prevent us from making the arrest.
My friend and a fellow police officer told me of an incident with his neighbor. My friend was actually at my house when his wife called, saying that it looked like the entire sheriff's dept. was at their neighbor's house. He later learned that his neighbor, who he describes as meek and mild, had gotten home late and drunk. After a brief argument with his wife who took his car keys away, he pushed his wife up against a wall threatening her. He stormed into his garage and she locked him out. He picked up an ax and began chopping his way back into the house as the police arrived.  My friend later talked to his neighbor who told him that she has been married several years, and this was the first time that her husband ever laid a had on her. Alcohol and anger was the cause of this incident.
To Read more – Click on View Post Below – Tips and Info after the link