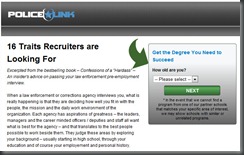 Here is a pretty good article about what recruiters are looking for..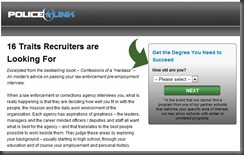 16 Traits Recruiters are Looking For
Excerpted from the bestselling book – Confessions of a "Hardass" – An insider's advice on passing your law enforcement pre-employment interview.
When a law enforcement or corrections agency interviews you, what is really happening is that they are deciding how well you fit in with the people, the mission and the daily work environment of the organization. Each agency has aspirations of greatness – the leaders, managers and the career minded officers / deputies and staff all want what is best for the agency – and that translates to the best people possible to work beside them. They judge these areas by exploring your background – usually starting in high school, through your education and of course your employment and personal history.
Some of these traits will also be judged by volunteer and neighborhood activities, and even hobbies. After exploring your background, they will ask stressful scenario questions, aimed at giving them information on how to rate you, without you even being aware of it. Everyone I've ever interviewed for a law enforcement position told the interview panel what we needed to know about all 16 of these areas, whether they were aware of it or not. Of course, no one is expected to be perfect. But the closer you can get to "10" in each of these areas through answering the questions that will be asked, the better your chances of being hired.
Here are the traits and principles involved in oral interviews and assessments. Give yourself a 1 (lowest) to 10 (highest) for each one. Think honestly about your life, your work history, volunteer history, hobbies, your education and everything else about you, and then ask yourself inwardly some very tough questions about each of these areas. As an example, have you ever been detained, ticketed or arrested by the police? If yes, one or more of these areas will give the board critical information – so BE PREPARED! Since no one is looking over your shoulder, rate yourself honestly in order to see how how well or poorly you do, so you will be able to focus on the areas needing the most improvement.
Full article here:
http://edu.policelink.com/v/flip_ch_pm_2_ocp/articles/3998-16-recruiting-traits