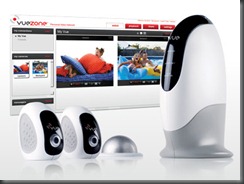 There are many options out there to consider but here is one that has just been released:
The Vue Personal Video Network

See what you're missing.
"Vue is the easiest and simplest way to remotely view your family, your home, your business…virtually anything, from anywhere, at anytime. Vue lets you create your own personal video network and delivers live video wirelessly for you to see and share from any web browser* or flash-enabled mobile device – no software to load. It's really that simple!
Vue FrameMesh technology – video unplugged.

Vue utilizes innovative patented FrameMeshâ"¢ technology to enable wireless live video transmission from battery operated miniature cameras. FrameMesh is an ultra low-power technology that allows a camera to operate for up to a year on a single battery with normal use. With no wires to restrict you, cameras can be positioned and repositioned easily in seconds using our patented peel & stick magnetic mounts.
Your personal page at my.VueZone.com.
Vue provides secure viewing of your personal video network online from any browser* or flash-enabled mobile device. Your my.VueZone.com Watch Page gives you complete control for viewing up to 50 cameras on a single gateway…and even multiple gateways. Extend your Vue anytime by adding cameras and gateways.
View. Share.

It's as easy as drag-and-drop. Your active cameras are visible on your Watch Page. Simply drag a camera icon into the My Vue area and click the Start button to view and share live video.
Record. Playback. Store.

Any video clip or snapshot can be easily recorded and stored for future playback. You can also schedule automatic recording times. Vue gives you 2gb of secure private storage with service plans for expanding."
** This might be just what you are looking for to remotely monitor the kids and maintain security at home **