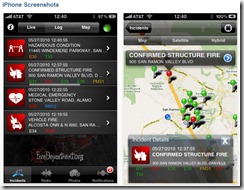 Great forward thinking department: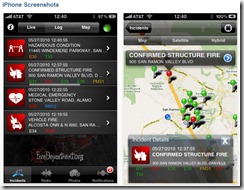 7/6/2010
FOR IMMEDIATE RELEASE
Subject :
San Ramon Valley Fire Protection District Releases First-of-its-kind Public iPhone Application
SAN RAMON, CA – Today the San Ramon Valley Fire Protection District (CA) is proud to announce the arrival of its much anticipated iPhone application in the Apple App Store. The FireDepartment.org iPhone application is the first of its kind and defines a new category of iPhone functionality. By providing a virtual window into the District's 9-1-1 dispatch center, iPhone users now have real-time access to emergency activity occurring in the community. The application also provides the District with a powerful new avenue to communicate with its mobile population during a disaster. Don't live in the San Ramon Valley? You'll still find listening to the live actions of our dispatchers, firefighters and paramedics informative and interesting.
Application users are able to view active incidents – including the current response status of dispatched units (enroute, onscene, etc.) and instantly pinpoint incident locations on an interactive map. Think that fire engine or ambulance that just passed might be heading to your house? Is there an accident up ahead causing this traffic tie-up? Just tap the application to quickly retrieve real-time information. A log of recent incidents and a photo gallery of significant events can also be easily accessed.
The FireDepartment.org application also allows residents and other interested parties to choose to be notified of incidents by category as they are dispatched. Users can even listen in on live emergency radio traffic via the modern version of the traditional fire scanner – their iPhone, iPad or iPod touch device. The District also uses the application to communicate with its more than 700 Community Emergency Response Team (CERT) members and to share information during disasters with all its citizens.
"Using the iPhone and iPad for field-based command and control operations holds great promise for emergency service providers," said Richard Price, Fire Chief for the San Ramon Valley Fire Protection District. "This consumer version of our development effort demonstrates the game-changing nature of these revolutionary handheld devices."

Pricing & Availability
The application is currently available to anyone free of charge. Visit www.firedepartment.org/iphone for additional information including a demonstration video. To try the application for yourself, simply search "fire department" at the Apple App Store or visit the link below to install the application on a compatible device.
http://itunes.apple.com/us/app/fire-department/id376052787?mt=8

The iPhone application was designed by District personnel after successfully implementing similar capabilities on the District's Webby-nominated website, FireDepartment.org. The District partnered with students at the College of Informatics at Northern Kentucky University (NKU) for iPhone engineering and programming services. By working with the District, students received valuable intern experience in addressing real world business needs.
The San Ramon Valley Fire Protection District provides all-risk fire, rescue and emergency medical services to the communities of Alamo, Blackhawk, the Town of Danville, Diablo, the City of San Ramon, the southern area of Morgan Territory and the Tassajara Valley, in Northern California (Contra Costa County). The District's service area encompasses approximately 155 square miles and serves a population of 167,500.
Apple, iPhone, iPad and iPod touch are trademarks of Apple.

Additional Press Contact
Lucas Hirst, Project Management/Design
San Ramon Valley Fire Protection District
lhirst@srvfire.ca.gov
(925) 838-6600