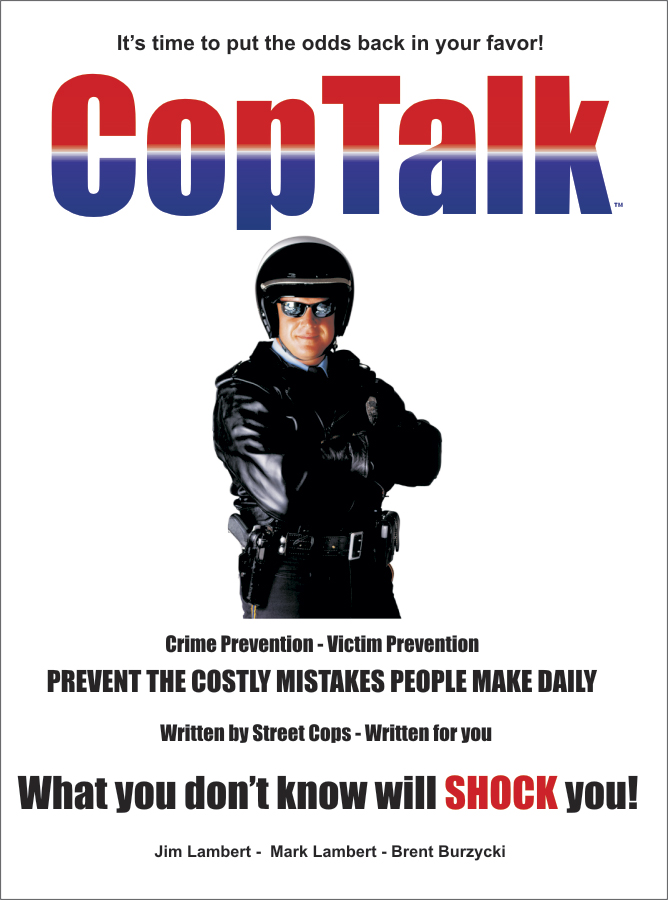 Podcast: Play in new window | Download
Subscribe: RSS
Ask a Cop? Stolen Property
From: Felicia
A month ago my apartment was broken into and my ps3, xbox 360 and all the games were stolen. I recently walked past my neighbors window and saw all of my stolen things. What can I do?
Our Reply:
If it was an easily identifiable item than could be seen through a window (like a dog, purple laptop, unique purse etc) you'd have better luck having the police check on it. But all PS3's, xbox 360's and games are identical so it how do you know they are yours? If you had distinguishing marks on the xbox and other items such as initials or drivers license #' engraved on the game, or knowing the serial numbers, then you might be able to persuade an officer to ask your neighbor about the items. If you saw the exact items that were stolen, same games, same color PS3, and a police report was filed on the burglary, then a cop might contact the neighbor to see if they could check for the serial number or identifying information and to ask where they got the items. Without identifying information, there's nothing to confirm it is your property and your probably out of luck. Without identifying information, most cops wont even bother to get involved. There would be no way to determine whose property it really is and it would just be your word against the neighbors.
Another reminder why people should engrave their initials, names, drivers license number, any kind of identifying information onto their property. You can do it with an engraver, screwdriver, knife, just about anything with a point. Also with the technology today and everyone having cell phones with video and cameras, you can take videos or  photos of the property including the serial numbers, that way you have proof it is yours.
Ask a Cop? Domestic Violence
From: Withheld
Friend of mine has a history if domestic violence with her husband of 4 yrs. She has 3 children and he has been arrested twice for domestic violence against her. He attended domestic violence classes and parenting and she dropped charges because she noticed significant change within him and she is a committed christian. Recently he struck her in the face and made her bleed for the first time. She wants him to leave the home but he refuses ad begs to stay because he admits he needs mental help and doesn't want to lose his wife and three kids……………
Our Reply:
Bottom line is "arrested twice and he recently struck her in the face making her bleed". Domestic violence only gets worse. As long as she tries to protect him it will get worse. She can try to get a restraining order against him based on the prior domestic violence and her fear of current escalating domestic violence. With a restraining order the police would make him leave and he will be arrested for returning or contacting her in any way. The police cant just make him leave if he lives there, he'd either have to be arrested for hitting her and/or a restraining order put in place.
I know it's tough for a woman to put a husband in jail, and the fear of living alone and having to take care of a family by herself, but she really needs to realize the danger she is putting herself and the children in. The violence WILL get worse, and if the kids see or hear the fighting and hitting, they will grow up feeling that's a normal relationship and either grow up to be a batterer or end up in a relationship being battered, it's a vicious repeating cycle. I'm sure he grew up in a home where domestic violence was present. You cant help someone who doesn't want help. Someone that resorts to physical violence when angered is a dangerous person. He's been in jail twice, and counseling, for most people that would be a wake up call. If he's hitting her again, especially striking her in the face, he needs to go back to jail. He wasn't being a "good guy" for taking parenting and domestic violence classes, those are court ordered and part of probation. If he didn't complete the classes there would have been a warrant out for his arrest. He obviously didn't get all the help he needs and she needs to protect herself.
There is a lot of help out there for battered women with families; housing, counseling, financial help etc. She really needs to get out of the situation because it isn't going to get any better. Until he can truly control his anger and physical violence, he is a very real threat to her and the children. Domestic violence only gets worse if it is ignored. She should document / photograph any bruises she has and call the police immediately anytime he batters her. Most states have a zero-tolerance for domestic violence. She should go to the police and report the latest incident. It would have been better to call the night of the incident and have the police see her bloody nose. Now she will have to explain why she waited 3 weeks but she can explain that she was fearful to report it at the time, hoping he would leave, and fearing repercussions.
She can try to obtain a restraining order based on the past incidents, and state that she was battered recently but it was an unreported incident. If she states his past history of domestic violence, the current unreported incident of being struck to the point of bleeding, and her fear of current and continuing violence, I don't see how the order can be denied.
Best advice is to get out of the situation, if he "gets away with it" it will only get worse. Maybe he needs some more jail time and mandated counseling for it to sink in. But more than likely if two prior arrests and counseling hasn't already worked, he may never change.
Good luck and let us know what happens.
P.S. Send Brent your address so we can send you a free copy of our book, I wrote a chapter on domestic violence that may be of some help. Another reader wrote that after reading the story it gave her the courage to get out of her situation.
Mark
SHOUT OUT TO AUSTRALIA – Sarah Brien and Evan Castle
Ask A Cop? Buying a used car without plates…..
I just purchased a used vehicle from someone today, but it doesn't have a license plate. Can it be towed for this?
Our Reply:
If it is currently registered but has no plates, you can get a citation (even if parked) for having no plates. If it has expired registration and no plates, you can get a citation for both. Here in CA, if a vehicle has expired registration over 6 months, even with plates, it is subject to tow and store until the registration is paid up. Hopefully the car you bought just had personalized plates the owner kept and it's currently registered. Best bet is to go to your local DMV as soon as you can with the paperwork given to you and they will issue new plates.
NEWS:
Cavity search produces 50 bags of heroin

The Associated Press
Posted: 03/21/2011 07:11:48 AM PDT
SCRANTON, Pa.—Police in northeastern Pennsylvania say they recovered more than 50 bags of heroin, cash and loose change from a woman following a cavity search.
Authorities say 27-year-old Karin Mackaliunas was detained last weekend following a crash. Scranton police say they found three bags of heroin in her jacket and after being taken to the police station she told investigators she had more hidden in her vagina. A doctor performed a search and recovered 54 bags of heroin, 31 empty bags used to package heroin, prescription pills and $51.22.
Mackaliunas was jailed on $25,000 bail on charges including possession with intent to deliver a controlled substance. It was not clear if she had an attorney.
A preliminary hearing is scheduled for Monday. If they kept digging they might have come up with all her bail money!
Police: Ohio man robs bank, is caught on city bus
The Associated Press
Posted: 03/16/2011 09:27:57 AM PDT
DAYTON, Ohio—Police in Ohio say a man robbed a bank and then tried to flee on board a public bus, where officers eventually caught up with him.
Dayton police Sgt. Moe Perez tells the Dayton Daily News the suspect got away with cash from a downtown KeyBank branch at around 10 a.m. Wednesday. Police were told by witnesses that they saw the man catch a bus about two blocks away.
Officers followed the route of the bus and pulled it over less than a mile away, near the campus of Sinclair Community College. Perez says the suspect was arrested without incident and the money was recovered. Police haven't said how much was stolen.
Information from: Dayton Daily News, http://www.daytondailynews.com
Woman arrested for DUI after griping to police
The Associated Press
Posted: 03/16/2011 01:49:50 AM PDT
Updated: 03/16/2011 02:05:48 AM PDT
DENVER—Police in a Denver suburb say a woman was arrested for drunken driving after she complained to officers about how they parked their patrol cars as they were investigating a DUI-related crash. Trevor Materasso of Westminster police told KMGH-TV that 49-year-old Katherine Morse was taken into custody after she walked up to police trying to move a car in the crash Sunday.
Materasso says police had parked their cars to prevent a suspected drunk driver in the crash from leaving the scene. He says officers told Morse to return to her car and she became "belligerent with them, telling them it was a stupid place" for a traffic stop.
Materasso says that's when officers realized "she too was drunk."
Morse also faces obstructing police charges.
Information from: KMGH-TV, http://www.thedenverchannel.com
Texas bank robber demands loot, shows 2 IDs
The Associated Press
Posted: 03/15/2011 12:31:50 PM PDT
Updated: 03/15/2011 12:33:57 PM PDT
DALLAS—A hapless bank robber who abided by a Dallas teller's request to provide two forms of identification before she could give him money is going to prison.
A judge sentenced 49-year-old Nathan Wayne Pugh of Sachse (SAK'-see) to more than eight years on Tuesday.
Pugh tried to hold up a Dallas Wells Fargo Bank in July. The teller stalled Pugh by telling him she needed to see two forms of ID. Pugh showed her his Wells Fargo debit card and a state ID card. He was captured as he tried to flee with $800.
Pugh pleaded guilty in October to a bank robbery charge. He was already on parole for two aggravated robberies.
Smart phone, dumb idea lands Idaho man in jail
The Associated Press
Posted: 03/15/2011 08:43:50 AM PDT
Updated: 03/15/2011 08:43:51 AM PDT
BOISE, Idaho—Authorities say a smart phone and a dumb idea have landed a 21-year-old Idaho man in trouble with the law.
Boise police say Alexander A. Welch is charged with unlawful exercise of the function of police after officers say he used a cell phone app that flashes blue and red to try to pull over another car Saturday night.
A motorist called police to report that someone who didn't appear to be an officer tried to pull the driver over with a flashing blue and red light. The person said the car pulled in behind briefly and then drove away.
The suspicious driver followed the car and called police, who located Welch's vehicle. Police found an application on Welch's cell phone that flashed blue and red lights and arrested him.
Police: Man gets stuck in hamper during break-in
The Associated Press
Posted: 03/11/2011 03:50:15 PM PST
Updated: 03/11/2011 03:50:15 PM PST
MESA, Ariz.—A man is in custody after police say he broke into an Arizona townhome and got stuck in a clothes hamper underneath the window he climbed through.
Mesa police say 20-year-old Michael Trias was arrested on suspicion of burglary and criminal damage.
The East Valley Tribune reports a resident inside the home heard the commotion of Trias becoming entangled in the hamper at about 9 a.m. Thursday.
The owner of the home restrained Trias and was able to take him outside and call police.
Authorities say no property was taken from the home, but there was some damage done to the window.
It was unclear Friday whether Trias has legal representation yet.
Man arrested for using sword to rob pharmancy
The Associated Press
Posted: 03/11/2011 05:05:29 AM PST
Updated: 03/11/2011 05:05:29 AM PST
LYNCHBURG, Va.—Police in Virginia have arrested a man accused of trying to rob a Lynchburg pharmacy twice in the same day—once while wielding a sword.
Lynchburg police arrested 27-year-old Michael Edward Towler and charged him with robbery, brandishing a weapon and attempted robbery. Pharmacist Michael Robertson says a man tried to rob the pharmacy Wednesday morning, but Robertson told him they had set off an alarm and police were on their way, so the man fled. Robertson says the man returned later that day in a lime-green raincoat, drew a samurai-style, 3-foot-long sword and got away with an undisclosed amount of narcotics. Towler was arrested later at his home.
It was unclear Thursday evening if Towler had an attorney.
Robbery Suspects Call 911 After Running Out of Gas
The Oakland Tribune
February 26, 2011
By Karl Fischer, The Oakland Tribune, Calif.
Feb. 25—Sometimes it hurts to ask for help. Just ask Charles Lamont Wright.
Wright, a 28-year-old North Richmond resident, sat in his girlfriend's car last week at a Hercules roadside after she ran out of gas. The girlfriend decided to call 911 for help, police say.
While not the usual way of summoning a tow, police applaud her initiative. Nearby El Cerrito, after all, sought both in connection with a January takeover robbery.
"(Wright) was also a parolee at large. He was wanted before we identified him," El Cerrito Detective Sgt. Scott Cliatt said. "He gave a relative's name, but fortunately, Hercules PD is on the same radio channel with Pinole. Pinole had our information, and had subsequently identified Wright as a suspect in a robbery in their city."
Wright, arrested Feb. 17, now awaits court proceedings in County Jail in Martinez, charged with robbery and false imprisonment. He joins 22-year-old North Richmond resident David Lopez, arrested the day after a Jan. 24 heist attempt at Allied Cash Advance in El Cerrito.
Prosecutors declined to file charges against the girlfriend, whom police suspected at the time of her arrest.
Police say three men in hooded sweatshirts barged into the business, on the 10700 block of San Pablo Avenue, ordered everyone to the floor and tried to hold up the place.
They left with no cash — the safe was on a timer — and only personal effects. El Cerrito police quickly forwarded surveillance
camera footage of the robbery to neighboring police departments, and North Richmond sheriff's deputies quickly identified the suspects.
El Cerrito police received further confirmation of their identities from fingerprints left at the crime scene, and a witness took down the license plate number of a stolen rental car used as the getaway vehicle. Richmond police stopped the car two hours later, driven by someone uninvolved in the robbery.
El Cerrito police now seek one more suspect in the robbery. They declined to release more information about him to preserve elements of their investigation.
Burglers Snort Cremated Ashes Thinking It Was Cocaine
Waldo Soroa (l.) and Matrix Andaluz (r.) were two of the teens arrested in the burglary. Marion County Sheriff
New York Daily News
January 20, 2011
MARION COUNTY, FL – A gang of teenage thieves looking to get high got a buzzkill instead when they realized a stash of "cocaine" they'd heisted and snorted was not the drug, but a dead man's ashes. The thieves, who burgled a woman's Florida house in December, stole – among other items – an urn containing the resident's father's remains, as well as a container where the ashes of her two deceased dogs were stored, according to a sheriff's report obtained by The Smoking Gun.
"The ashes that were taken from the house had been taken because the suspects mistook it for either cocaine or heroin," the report reads. "During the conversation, it was learned that the suspects had snorted the ashes believing they were snorting cocaine."
The robbers – all in their teens – later saw a news report about the woman's house they'd robbed, in which it was revealed that the ashes were among the items stolen.
They wanted to return the stolen remains, the report states, but were "discouraged" by another individual, Gabriel Ruiz, "because of fingerprints."
Rather than run the risk of being caught, the thieves tossed the ashes in a lake, sheriff's spokesman Judge Cochran told Reuters.
The unusual details of the burglary did not emerge until the suspects were arrested for another robbery attempt last week.
The three teenagers detained in the crime, according to Central Florida News, are Waldo Soroa, 19, Matrix Andaluz, 18, and Jose David Diaz Marrero, 19. They each face multiple charges.
Divers are reportedly combing the lake for the remains, though a source told The Smoking Gun there is a possibility the ashes are still in Soroa's home.
Greenwood man caught having sex with hogs Gave hogs vaginal infection
GREENWOODÂ – Authorities said a man who was caught having sex with show hogs will have his case presented to the Leflore County Grand Jury next month. Andrew Lee Nash, 52, was arrested on Dec. 3, 2010 after police set up surveillance cameras in the owner's stalls near U.S. Highway 82 and the Yazoo River.
Greenwood Police Chief Henry Purnell said the hogs were examined by a local veterinarian, during a routine examination, and the owner was told that four of the hogs had a vaginal infection.
"The owner of the animals knew someone was messing with his animals," said Chief Investigator Huntley Nevels. "And the veterinarian confirmed the sexual assault. So, the owner contacted police and the officers staked it out and caught him out there."
Nash, who lives in the 700 block of Mississippi Avenue, was arrested at the scene and charged with 12 counts of unnatural intercourse.
Nash's bond was initially set at $600,000, but later reduced to $60,000.
Nash remains in custody at the Leflore County jail.
Greenwood authorities said Nash's case is scheduled to be presented before the Leflore County Grand Jury next month. If Nash is indicted and found guilty, he faces up to 120 years in jail.
In closing:
Website www.coptalk.info
Email Subscription – Sign Up on the site
Thanks for your support over the past 10 years and thanks for continuing to follow our site
STAY SAFE!
Please send in your questions: https://www.coptalk.info/ask-a-cop-ask-us-a-question/